Ritter Observatory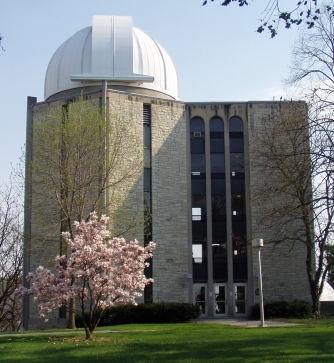 View of Ritter from Bancroft Street taken by E. Hesselbach
---
A research observatory in an urban environment, Ritter Observatory has a 1-meter telescope with two fiber-fed spectrographs for stellar spectroscopy. As of 2013, it is also being used part time with the HPOL spectropolarimeter, which was originally developed by the University of Wisconsin. Ritter's mission includes
Research: long-term monitoring of variable stars that have winds, circumstellar disks, or active envelopes, with occasional forays into spectroscopy of bright solar system objects
Access by the professional astronomical community, formerly with support by the National Science Foundation Program for Research and Education with Small Telescopes (PREST)
Public outreach: public observing on the first Friday of every month and on special occasions, offered through Ritter Planetarium and Brooks Observatory. Our introductory poster, located in the 5th floor lobby, is reproduced here (PDF, 128 KB). For the full-sized version (PDF, 6.8 MB), click here.
---
News: On July 29, 2008, Ritter Observatory was the subject of a full-length article in the science pages of the Columbus Dispatch.
---
At the end of December 2006, we received our new Spectral Instruments 600 Series camera, with a 4K X 4K CCD (at right).

This camera is now installed and fully operational on the échelle spectrograph.

More information is available here.

A colorized version of a spectrum of Deneb obtained with the new camera can be viewed here.
---
Observing