Ha VARIABILITY OF THE A-TYPE SUPERGIANT STAR HD 223960
William Fischer (Univ. Toledo)
Dr. Nancy Morrison (Univ. Toledo)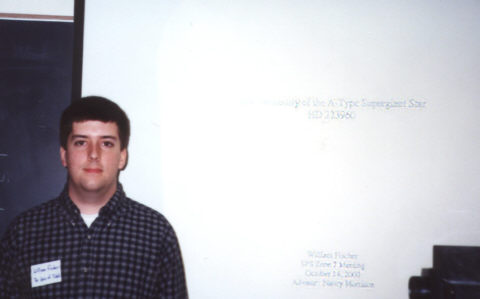 HD 223960, an A0 Ia-type supergiant in the Cas OB5 association, is unusual for its class in having an Ha profile with double-peaked emission entirely above the continuum. For this study, I analyzed twelve high-resolution échelle spectra obtained in 1993-95 and in 1999 with the 1 meter telescope of Ritter Observatory. The radial velocities, equivalent widths, and especially, the ratio V/R of the Ha components vary. I have considered several explanations for the observed behavior, but no explanation completely addresses all the issues. The available evidence is consistent with the star having a weak, fast wind.
---
Back to Zone Meeting Page
Back to SPS Home Page