THERMAL CONDUCTIVITY MEASUREMENTS OF SILICON USING A THERMALLY BRIDGED SOLUTION OF THE 3w METHOD
Michael J. Walock (Eastern Michigan Univ.)
Dr. Peter Barnes (Auburn Univ.)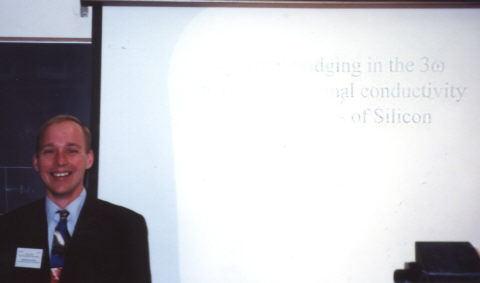 The 3w method of thermal conductivity measurements was originally solved for single-layer, bulk sample dielectrics. However, this method has been extended for use in characterizing conductors and semiconductors. An electrically insulating layer is placed between the heater/thermometer line and the sample. The thickness of the dielectric layer has a direct affect upon the frequencies used to characterize the substrate.
---
Back to Zone Meeting Page
Back to SPS Home Page